Introducing the Innovation Productions Studio. A high tech space in Yorkshire available for Video and TV Production, which is suitable for many uses including Event Streaming, Music Videos and Show reels.
Built to offer high production values from fast turn around and excellent value for money the studio features a curved 11m x 3m High Resolution 2.9mm pitch LED video screen and fully intelligent lighting rig allowing digital backdrops and matching light states to be dropped in place at the push of a button.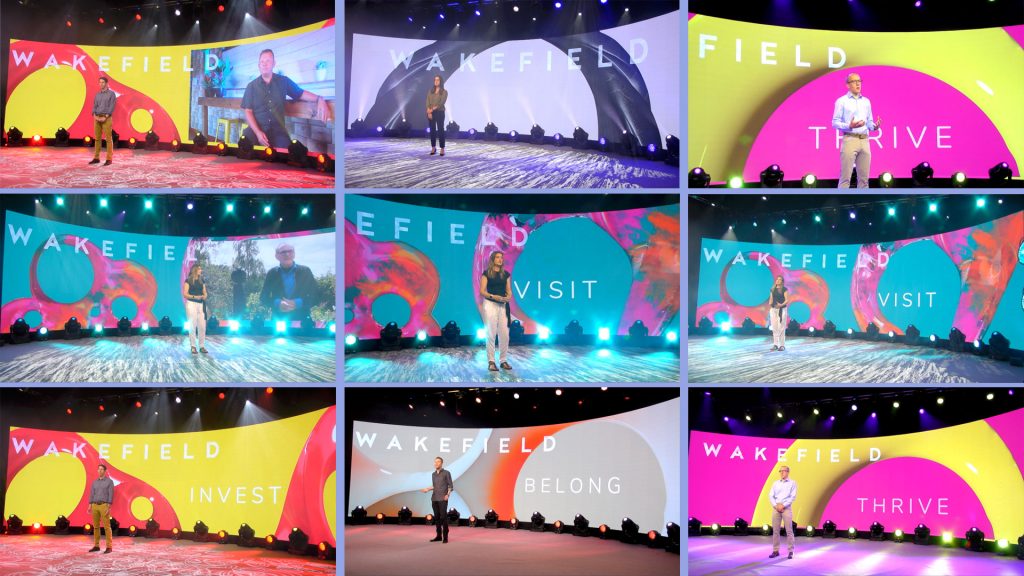 The studio can function COVID friendly and comply with the latest guidelines allowing the resumption of TV production.
Available to hire immediately with varying levels of technical and crew support to suit your requirements.
Please contact us for booking enquiries.
TV Production
Music Videos
Virtual Awards Events
Virtual Conferences
Public Announcements
Product Demonstrations
Product Launch
Press Releases / Statements
Showreels
Shareholder Presentations
Concert Streaming
Technical Specification
Video screen
11m x 3m Curved Video Wall, 2.97mm Pitch – 3696 x 1008 Pixels
Choice of Dataton Watchout or MA VPU media servers
Independent input for own feed / powerpoint etc.
Lighting
12 Martin Era 600 Performance Profile Fixtures
19 Martin Rush MH6 Wash Fixtures
8 Martin Quantum Profile Fixtures
12 Martin Rush MH2 Wash Fixtures
8 Clay Paky Sharpy Beam Fixtures
12 Martin Rush MH6 CT Fixtures
12 Virtuoso Fresnel Fixtures
6 Showtec Blaze Feature Lights
2 Look Solutions Unique Hazes
Grandma Control Desk
Pre-Visualisation via capture or MA 3D
Audio
Choice of audio devices including
48 Channel Yamaha M7CL Mixing Console
Upto 32 Channels of RF Radio mics or IEM
Various Playback Options
Various Foldback Options
Cameras
Various Camera Solutions From Robotics to Full Camera Crews
Option of record or streaming outputs
Additional Equipment
We have a full inventory of Lighting, Sound, Video and Staging.
Physical
Performance Space – Width 9.6m, Depth 6.5m
Space for Cameras – Width 14m, Depth 3m
Additional Space with some restrictions in front of this.
Height 3.8m to Largest Fixture, 4.5m to Grid
Load In door 3.5m wide x 4.5m Tall
Scissor Lift
Fork Lift
Studio Plans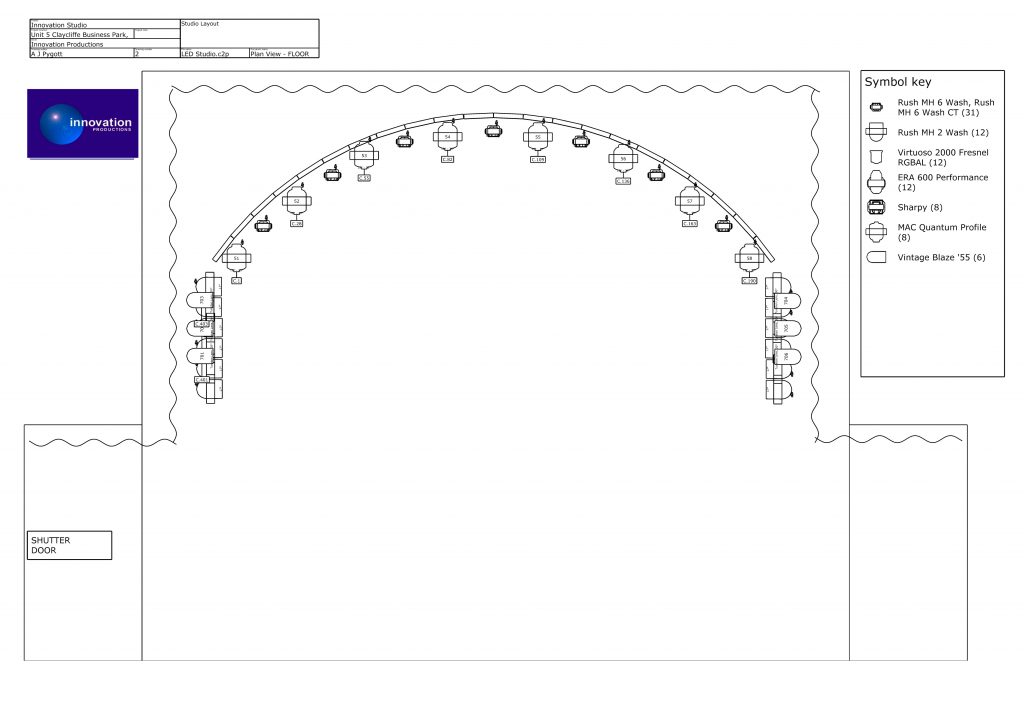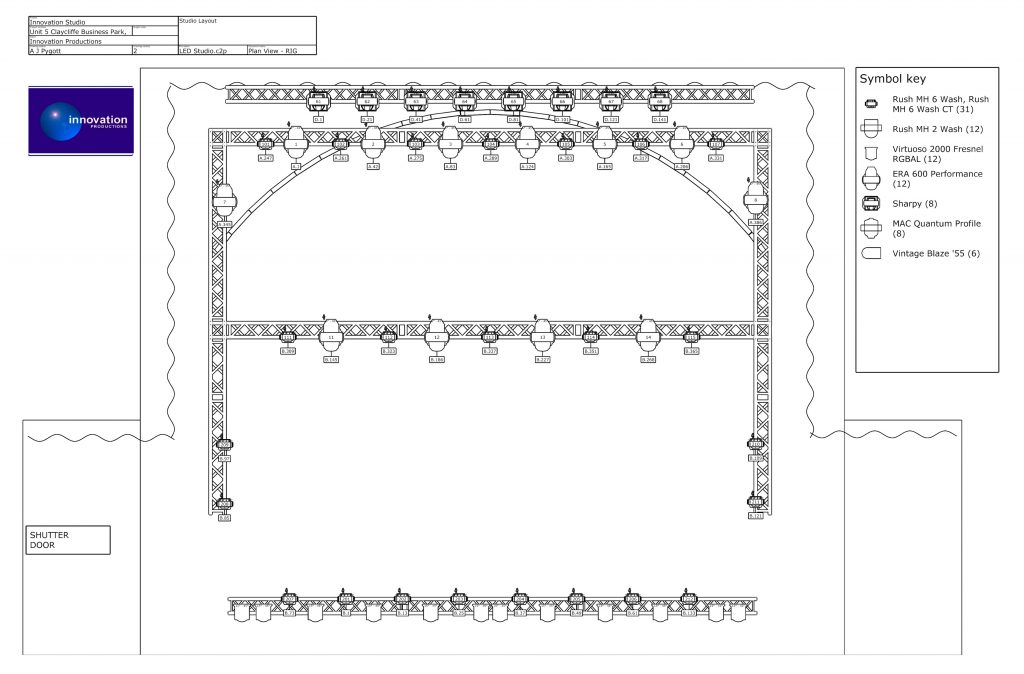 Finding us,
The Innovation Productions Studio is located in Barnsley Yorkshire and is easily accessible via Road or Rail, being centrally placed to the UK as a whole makes it an ideal location. The local city's of Sheffield, Wakefield and Leeds offer excellent accommodation and dining options, there are also a number of very local hotel options. If you require help with travel and hotel arrangements please do not hesitate to contact us.
Innovation Productions Studio
Unit 5 Claycliffe Business Park
Cannon Way
Barnsley
Yorkshire
S75 1JU
Traveling Via Road
Being located only 5 minutes from the M1, only a few junctions below where it cross the M62, national access to Innovations Yorkshire based studio couldn't be easier. Both junctions 37 and 38 can be used to access our studio location and both routes are suitable for HGV's.
Travelling Via Train
We can arrange pick ups from local stations.
Barnsley Station and Dodworth Station are the closest two options. Wakefield Station is a little further away but provides excellent links to London and Scotland. Dodworth is on the line from Sheffield to Huddersfield. Barnsley is also on the same line but with the addition of a line to Leeds.
Air travel
We are around 1 hour from each of the following Airports
Manchester Airport
Leeds Bradford Airport
Doncaster Sheffield Airport
Airport Transfers can be arranged.